Atuaire
REF. 072830 |
Out of stock
LED AC Ceiling Fan with 3 colour temperatures
DC motor: Ultra-quiet and low consumption
Small size
With three colour temperatures
Summer / Winter Mode
With timer
Includes remote control

















Request A Quote
Con un tamaño reducido, el modelo Atuaire combina la elegancia del acabado níquel mate con la sencillez de formas y una palas en acabado gris claro construidas en ABS. Se maneja gracias a un Comando a distancia. Dispone de cambio de temperatura de color, con tres opciones, cálido, neutro y frío y permite la temporización de su apagado.

ACCESORIOS: Remote control: 078125
All our products have a standard warranty 2 years and a motor warranty 5 years
If you have any suggestions or question, do not hesitate to contact us
It will be our pleasure to assist you.
Colour: Gray
Finish: Nickel
Shovel colour: Gray
Material: Metal
Diffuser material: Glass
Nº de palas: 3
Shovel material: ABS
Tipo de Motor: AC
Modo verano / invierno: Si
Dimensions: Ø980 x 420 mm
Mounting position: Surface
Inclinación de techo máx.: 15º
Instalación: Short rod
Velocidades: 1 / 2 / 3
Consumo: 22 / 40 / 63 W/h
RPM: 140 / 185 / 225
Flujo de aire: 70 / 115 / 155 m3/min
Nivel de ruido: 30 / 40 / 45 dB
Opening Angle: 120º
Light Source: LED
Luminary Power: 18 W
Watts: 18 W
Colour Temperature: AJUSTABLE K
Luminous Flux: 1600 Lm
CRI: 80
IP: 20
Dimmable: No
Factor de potencia: 0,9 W
Energy class: A+
Classe: I
Voltage: 220-240V~AC
Frecuencia: 50 Hz
Lifetime: 25000 h
Number of switch-on: 10000
Unidades por caja: 1
Cajas por artículo: 1
Volume: 0,05 m3
EAN: 8426107536525
Made in: China
Dimensions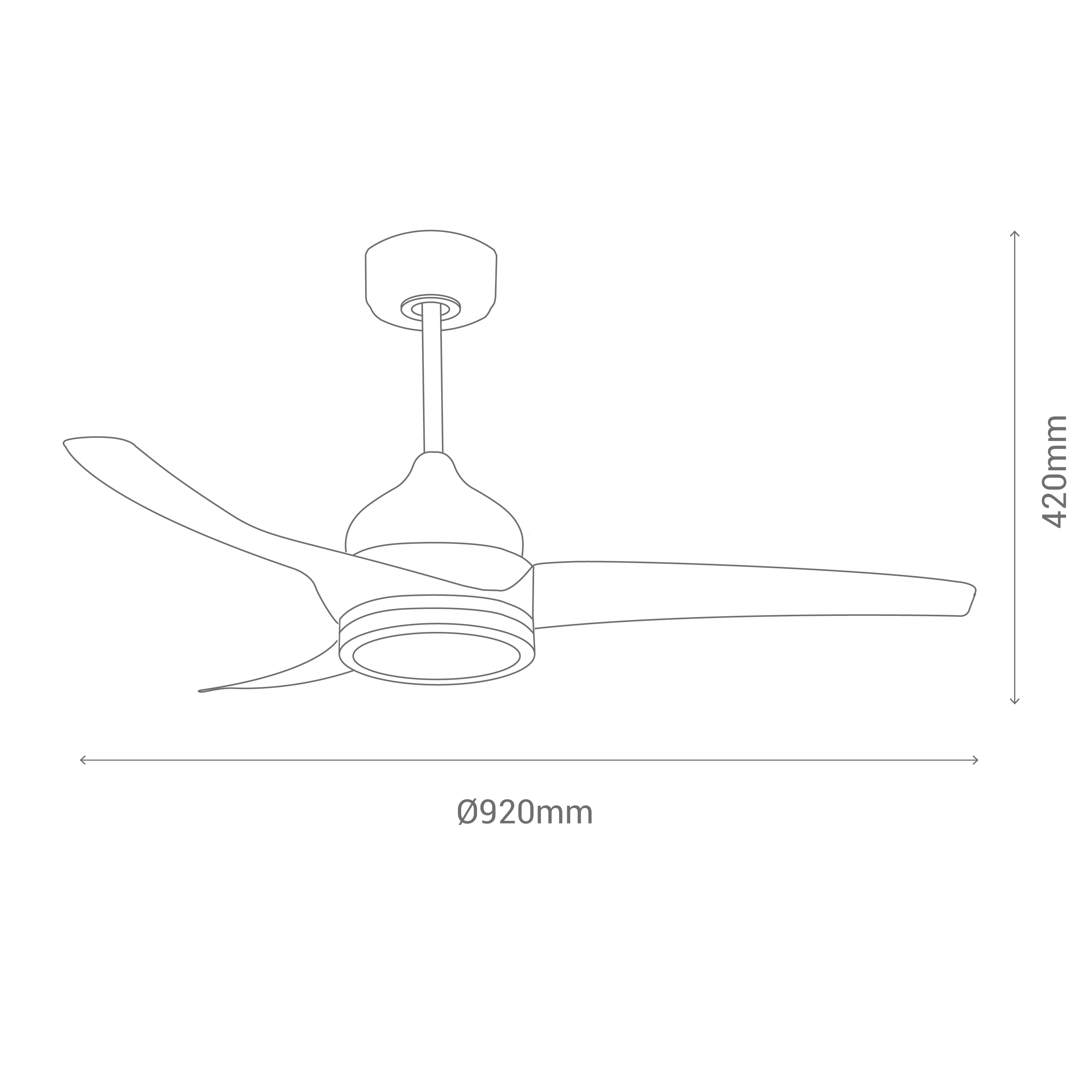 Certificates and associations