LED AC Ceiling Fan with reversible blades
Small size
With chain
Summer / Winter Mode
Reversible blades: multicolour white / pine
2 installation heights


















Request A Quote
El ventilador de techo RAINBOW LED pertenece a la categoría de TAMAÑO PEQUEÑO, con 76cm de diámetro, es ideal para habitaciones de menos de 12 m2. Tiene el cuerpo acabado blanco y seis palas reversibles para elegir color blanco o multicolor brillo. Lleva una placa SMD LED de 15W y un cristal satinado Se activa por medio de dos cadenas con tirador decorativo. Opcionalmente se le puede incorporar un Comando a distancia.

ACCESORIOS: Remote control: 078100 (opcional)
All our products have a standard warranty 2 years and a motor warranty 5 years
If you have any suggestions or question, do not hesitate to contact us
It will be our pleasure to assist you.
Colour: White
Shovel colour: White / Multicolored
Material: Metal
Diffuser material: Glass
Nº de palas: 6
Shovel material: Plywood
¿Palas reversibles?: Si
Tipo de Motor: AC
Modo verano / invierno: Si
Dimensions: Ø760 x 280-380 mm
Longitud de palas: 295
Alto ajustable: Si
Mounting position: Surface
Inclinación de techo máx.: 17º
Instalación: Ceiling mount, Short rod
Velocidades: 1 / 2 / 3 /
Consumo: 16 / 27 / 53 W/h
RPM: 131 / 187 / 237
Flujo de aire: 48 / 67 / 96 m3/min
Nivel de ruido: 30 / 42 / 46 dB
Opening Angle: 120º
Light Source: LED
Luminary Power: 15 W
Watts: 15 W
Colour Temperature: 4000 K
Luminous Flux: 1350 Lm
CRI: 80
IP: 20
Dimmable: No
Factor de potencia: 0,9 W
Energy class: A+
Classe: I
Voltage: 220-240V~AC
Frecuencia: 50 Hz
Lifetime: 25000 h
Number of switch-on: 10000
Unidades por caja: 1
Cajas por artículo: 1
Volume: 0,0204 m3
Brut weight: 6,3 kg
Net Weight: 5 kg
EAN: 8426107261311
Made in: China
Dimensions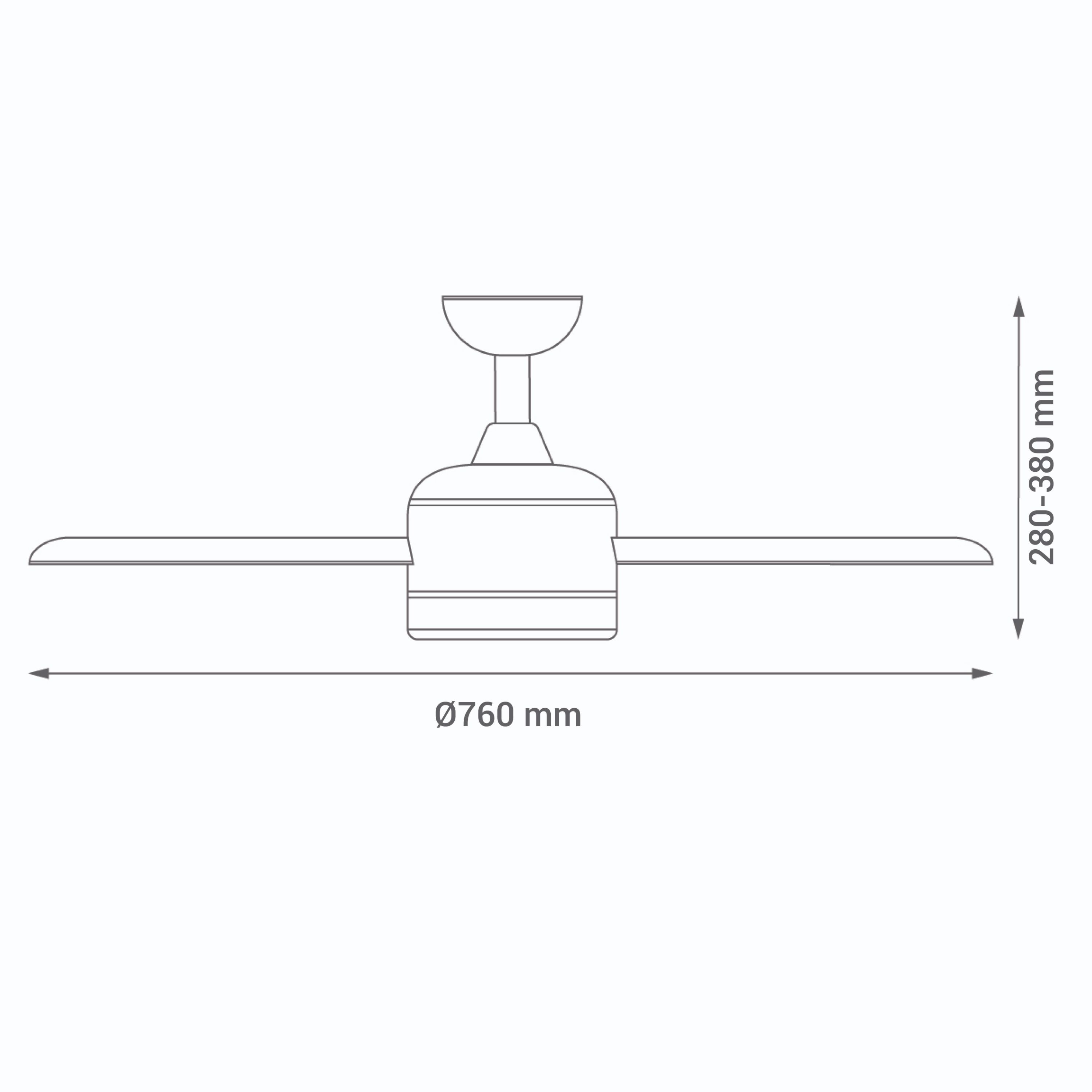 Certificates and associations