Rubik
REF. 075319 |
Out of stock
DC Ceiling Fan without blades, with 3 lighting modes
DC motor: Ultra-quiet and low consumption
With adjustable and dimmable colour temperature
Without blades
iFeel: Temperature Sensor
With timer
Includes remote control
Kit for flush installation included
















Request A Quote
El modelo Rubik es un concepto diferente de ventilador, que incorpora una tecnología novedosa que absorbe el aire desde la parte central, creando una distribución homogénea en la habitación. Construido en acrílico en su estructura lateral, se completa con una estructura metálica para el sistema de luz, con alta disipación. Funciona con un motor DC. Tiene una fuente doble de luz de 36W en el centro más 15W en el lateral. La zona central permite dimerizar la intensidad y cambiar la temperatura de color de cálido a frío. En total puede emitir hasta 2500lúmenes. De pequeño tamaño, sólo 70cm, permite ventilar habitación de más de 30 metros sin problema. Comando a distancia con display de fácil lectura y múltiples funciones; temporizador, sensor de temperatura, aire aleatorio y posibilidad de encendidos separados de la luz central y lateral. Permite su instalación a ras de techo sin perder emisión de aire, además de la instalación con tija de 15cm. Disponible en color marrón claro.

ACCESORIOS: Remote control: 078125
All our products have a standard warranty 2 years and a motor warranty 8 years
If you have any suggestions or question, do not hesitate to contact us
It will be our pleasure to assist you.
Colour: Matte white
Material: Metal
Diffuser material: Acrylic
Shovel material: ABS
Tipo de Motor: DC
Dimensions: Ø730 x 280-380 mm
Alto ajustable: Si
Mounting position: Surface
Inclinación de techo máx.: 23º
Instalación: Ceiling mount, Short rod
Velocidades: 1 / 2 / 3 / 4 / 5 / 6
Consumo: 8,2 / 12,6 / 20,1 / 31,4 / 46,6 / 65,7 W/h
RPM: 90 / 122 / 154 / 186 / 218 / 249
Flujo de aire: 40 / 70 / 80 / 100 / 120 /130 m3/min
Nivel de ruido: 29 / 33 / 38 / 42 / 47 / 52 dB
Opening Angle: 120º
Light Source: LED
Luminary Power: 51 W
Watts: 36 + 15 W
Colour Temperature: AJUSTABLE K
Luminous Flux: 2400 Lm
CRI: 80
IP: 20
Dimmable: Si
Factor de potencia: 0,6 W
Energy class: A+
Classe: I
Voltage: 220-240V~AC
Frecuencia: 50 Hz
Lifetime: 35000 h
Number of switch-on: 10000
Unidades por caja: 1
Cajas por artículo: 1
Volume: 0,176 m3
Brut weight: 16,8 kg
Net Weight: 15,5 kg
EAN: 8426107935243
Made in: China
Dimensions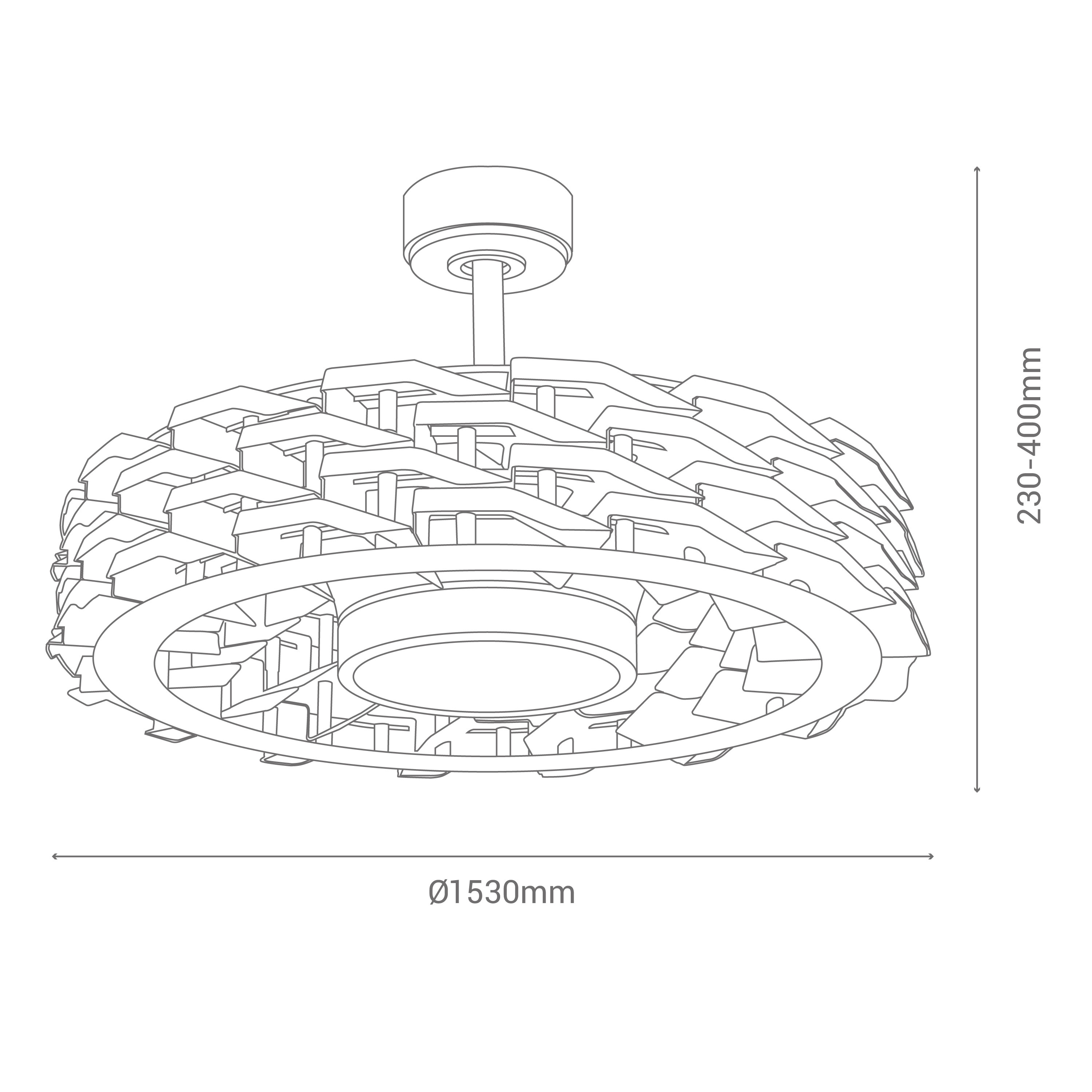 Certificates and associations