Bombay
REF. 075079 |
Out of stock
LED AC Ceiling Fan with retractables blades
Medium size & retractile blades
With three colour temperatures
Includes remote control
With timer

















Request A Quote
Introducimos en nuestro rango de ventiladores el modelo Bombay, con un tamaño total de 107cm, cuando tiene sus palas desplegadas, está fabricado en metal con palas transparentes en ABS. Se maneja gracias a un Comando a distancia. Dispone de cambio de temperatura de color, con tres opciones, cálido, neutro y frío y permite la temporización de su apagado.

ACCESORIOS: Remote control: 078128
All our products have a standard warranty 2 years and a motor warranty 5 years
If you have any suggestions or question, do not hesitate to contact us
It will be our pleasure to assist you.
Colour: White
Shovel colour: White
Material: Metal
Diffuser material: Acrylic
Nº de palas: 4
Shovel material: ABS
Tipo de Motor: AC
Modo verano / invierno: Si
Dimensions: Ø1070 x 360 mm
Mounting position: Surface
Inclinación de techo máx.: 10º
Instalación: Short rod, Long rod
Velocidades: 1 / 2 / 3
Consumo: 23 / 42 / 61 W/h
RPM: 159 / 207 / 241
Flujo de aire: 82 / 107 / 135 m3/min
Nivel de ruido: 27 / 30 / 39 dB
Opening Angle: 150º
Light Source: LED
Luminary Power: 36 W
Watts: 36 W
Colour Temperature: AJUSTABLE K
Luminous Flux: 2400 Lm
CRI: 80
IP: 20
Dimmable: No
Factor de potencia: 0,9 W
Energy class: A+
Classe: I
Voltage: 220-240V~AC
Frecuencia: 50 Hz
Lifetime: 35000 h
Number of switch-on: 10000
Unidades por caja: 1
Cajas por artículo: 1
Volume: 0,125 m3
Brut weight: 10 kg
Net Weight: 9,2 kg
EAN: 8426107935298
Made in: China
Dimensions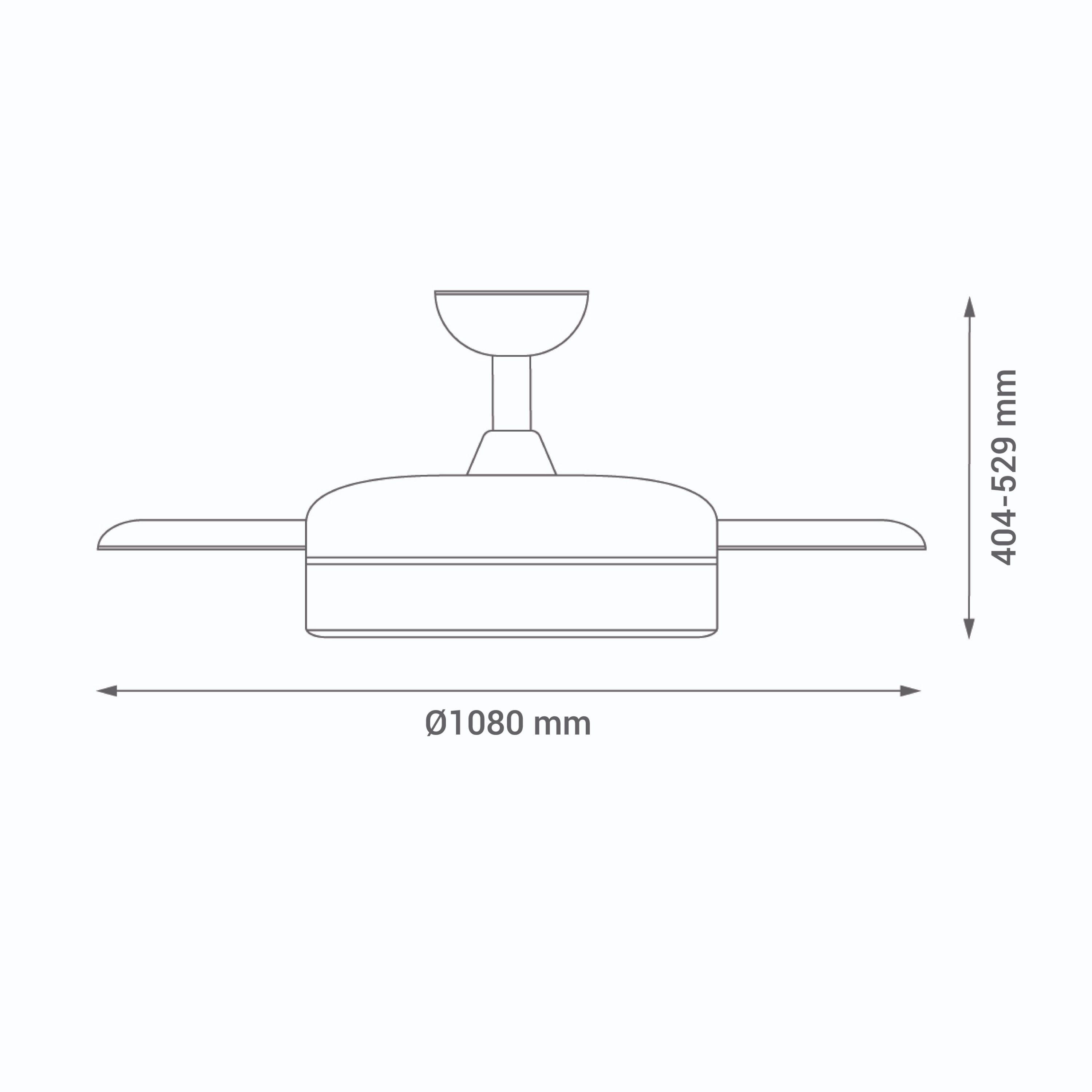 Certificates and associations