Adjustable Ceiling Lamp with temperature switch
Smart Light
Remote control inclued
Adjustable
CCT change: Adjustable colour temperature
Possibility of grouping














Request A Quote
Plafón redondo de gran tamaño en 500mm y 45W. Incluye un mando a distancia que permite regular tanto la temperatura de color, de cálido a frío, y dimerizar la intesidad de la luz en todo su rango. Permite usar un sólo mando para varias unidades, en caso que sea necesario, aunque en cada pieza viene incluido un control remoto. Se puede programar el encendido y apagado de la unidad. Sin usar el mando, la pieza enciende directamente al pulsar el interruptor de pared. Disponible en cuadrado en 500x500mm y también en rectángular en 1200x300mm, en 45W en ambos casos.

ACCESORIOS: Mando: 101193
All our products have a standard warranty 2 years.
If you have any suggestions or question, do not hesitate to contact us
It will be our pleasure to assist you.
Colour: White
Material: Aluminium
Diffuser material: Acrylic
Dimensions: 500 x 38 mm
Mounting position: Surface
Opening Angle: 120º
Light Source: LED
Luminary Power: 45 W
Watts: 45 W
Colour Temperature: 2800-5500 K
Luminous Flux: 4200 Lm
CRI: 80
IP: 20
Dimmable: Si
Factor de potencia: 0,9 W
Consumo: 49,5 V
Entrada Driver: 85-240V
Salida Driver: 20-42V/1100mA/46W
Energy class: A+
Classe: II
Voltage: 100-240V~AC
Frecuencia: 50/60 Hz
Chip type: SMD LED 2835
Lifetime: 35000 h
Number of switch-on: 10000
Volume: 0,013 m3
Brut weight: 3,3 kg
Net Weight: 3 kg
EAN: 8426107852366
Made in: China
Dimensions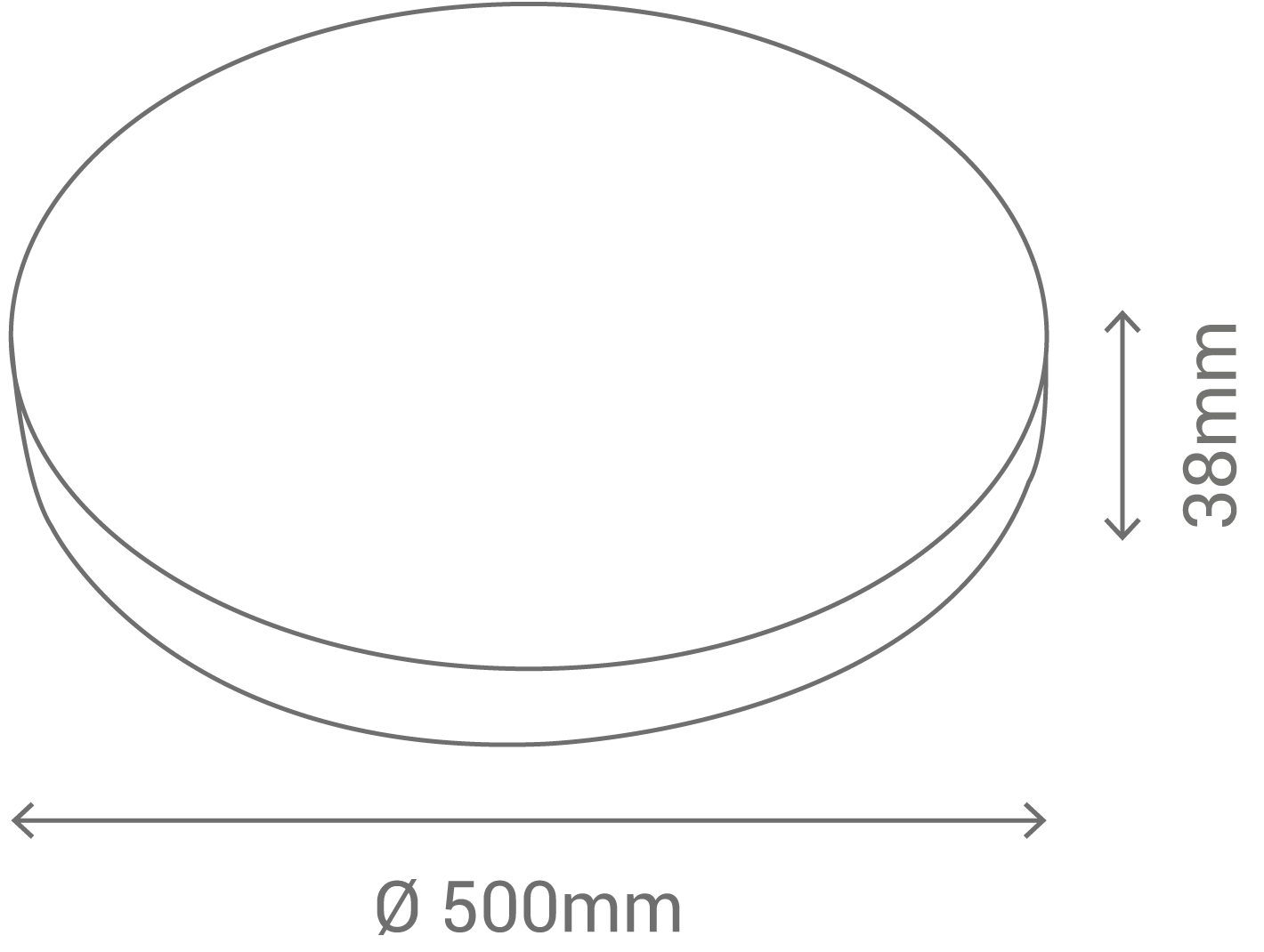 Certificates and associations